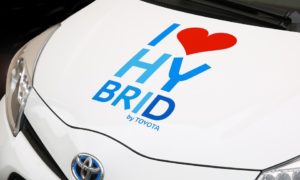 Toyota has recently announced (April 2019) that it will grant royalty-free licenses on nearly 24,000 patents related to its hybrid electric vehicle (HEV) market. In the announcement, Toyota stated that its goals were to promote widespread adoption of electrified vehicles in an effort to help governments, automakers and society at large accomplish goals related to climate change. Toyota has further noted that it felt now is the time to cooperate with other companies, based on the high volume of inquires it received in connection with its vehicle electrification system from companies who recognize a need to popularize hybrid and other electrified vehicle technologies.
The Toyota announcement comes at the heels of a similar announcement made in January 2015, when Toyota announced at the CES conference that it is going to make its hydrogen fuel portfolio of 5,600 patents available on a royalty-free basis. Toyota's new patent announcement raises a number of important questions related to the value of these patents and the end goal of Toyota's move.  In this blog we examine the potential motivations for Toyota's bold move, its implications on patent valuation and brand valuation, and how Toyota's patent move is very different from what appears to be a similar move made by Tesla.
From Hybrid Vehicle Pioneer to Market Leader
The Toyota brand is synonymous with the hybrid vehicle. Since the launch of the Prius, with its unique love-it or hate-it design, Toyota has solidified its position as a leading auto company in the pursuit of reduced vehicle emissions. The company's eco-friendly branding efforts have paid global dividends – in 2017, Toyota surpassed the 10 million cumulative global unit sale mark, with Prius models alone accounting for about 60% of these sales. Though they may be the category leader, however, the hybrid vehicle market is fairly negligible in the total global car market, which is pegged at nearly 79 million unit sales in 2018. With an estimated 4.2 million unit sales in 2018, the hybrid market represents just 5% of the total. With such a strong brand in a minuscule category, it is only natural for Toyota to seek to aid growth in the hybrid market.
With the move to allow royalty-free access to its hybrid vehicle patent portfolio, while selling parts and consulting services on the technology, it seems that Toyota is attempting to advance the hybrid market as a whole. A J.P. Morgan analyst report noted that electric vehicles (including battery EVs, plug-in hybrids, and traditional hybrids) represented just 1% of total global vehicle sales in 2015. The same report estimates that by 2030, this will rise to nearly 60%. It is fair to assume that Toyota will be a major supplier fulfilling this increased global demand.
When a Stick Becomes a Carrot
In an article we published in March 2019, Foresight predicted the return of "Carrot licensing" as one of the trends to watch in 2019.  The Toyota announcement could not have been a more timely validation of that trend.  "Carrot licensing" is a term used to reference licensing activity that is driven by technology transfer, as opposed to licensing driven by enforcement (also known as "Stick" licensing). This form of licensing is more closely associated with emerging technologies, where the licensor is interested in creating markets for new products using an idea protected either by trade secrets or by patents.  A Carrot licensing strategy also has economic advantages: it allows expansion into new regions without bearing the marketing, manufacturing and distribution cost associated with the complementary business assets needed to bring a new technology to market.  In Toyota's case, the company decided to grant royalty-free license agreements as a way to boost market adoption, which will in turn drive additional revenues from components and technical support.
Given Toyota's dominance in the hybrid vehicle market, one could easily argue that the time to cooperate has long passed, as major US manufacturers currently offer their own hybrid vehicles, or have announced plans to go all electric in the coming years. With this in mind, it is unlikely that Toyota is seeking to create partnerships with major US manufacturers to expand their hybrid lineups. Instead, this seems to be Toyota's push to become a component supplier that also provides fee-based technical support to car makers in developed or developing countries that do not have the same access to electric or hybrid vehicle technology. Through component sales and technical support, Toyota can continue to profit from the innovations protected by these patents without having to build, export and market Toyota vehicles.  Since Toyota cannot possibly grow its market share much beyond it already is, it needs to expand the overall pie so others can produce hybrid vehicles, while paying Toyota for parts and knowledge.  It is actually a very smart strategy from an economic and market perspective.
Toyota's Patent Valuation: Boost or Bust?
Toyota's announcement raises a number of questions related to the value of the 24,000 patents that were just offered royalty-free to the market. If Toyota is granting royalty-free licenses on a significant portion of its patent portfolio, does this mean that these patents hold no value? According to Toyota's announcement, an actual license with Toyota is still required to gain access to these patents. This approach is markedly different from that of Tesla which stated they would not initiate patent lawsuits against anyone who, in good faith, wanted to use their patents. Toyota is stating that "contracts for the grants may be issued by contacting Toyota and discussing specific licensing terms and conditions." This sounds more like Microsoft's approach to granting access to 10,000 patents to startups to defend against lawsuits, subject to the condition that the startup must qualify based on their preceding three-month Azure spending.
We do not yet know what terms and conditions will ultimately be included in the Toyota license agreements, but the language tends to indicate that one could expect to find a tie-in with Toyota's services and/or Toyota's components, which could generate significant revenues for Toyota. The company will most likely still continue to maintain and grow its patent portfolio, even though the patents are offered under royalty-free licenses. Assuming this is the case, Toyota is seeking an alternative route to monetization of their patented technology that extends beyond the market which it already dominates in vehicle sales.  If the patents help drive other types of revenues, then they still have significant value, which could potentially be even higher than the value calculated based on the royalty savings or royalty licensing potential to Toyota.  Patents can also bring strategic value that does not translate directly into a revenue stream.  Toyota holds the IP rights to the technology underlying its massive patent portfolio, and can use these IP rights in whatever way it sees fit.  From an economic and legal perspective, the Toyota Board has a fiduciary duty to its shareholders to utilize corporate assets (including intangible assets, such as patents) in ways that optimize shareholders' return.  One should assume that careful consideration has been given before 24,000 patents are released royalty-free, as the Board could have left the status-quo as is and have done nothing with the patents; if these patents are indeed worthless, why do anything with them? Let alone offer them free of royalty to the market.
"Toyota Inside"? The Branding Implications for Toyota
Toyota's gesture also differs from Tesla's in other important ways. Tesla's announcement was interpreted as a way to expand adoption of a relatively new market: all-electric vehicles. Tesla viewed its patent portfolio as a road block to the emergence of newcomers in the market.  Toyota, on the other hand, is in a much different position: it holds the lion's share of the market for hybrid vehicles –  a market it helped create over 20 years ago with the introduction of the first Prius model in 1997. Since that time, Toyota has effectively utilized its portfolio to restrict competition and build its massive market share, and is now facing an inflection point where the market appears ready to abandon hybrid vehicles in favor of all- electric vehicles. It seems clear that Toyota believes major markets are turning away from hybrids, and it now must find a way to monetize its patent portfolio through a new business model. Time will tell whether this approach will suffer the same fate as Toyota's fuel cell patent offering in 2015, or if the company is able to extend the economic life of these assets through service and component obligations in emerging vehicle markets.
It also seems that Toyota views itself as a key player in enabling this overall growth. The Prius brand has proven itself to be marketable and sustainable; however, no matter how strong the brand, the demand must exist in the market to realize its true value. Perhaps this is why Toyota is seeking to enable its competitors to more readily produce hybrid vehicles. With the competition now armed with the tools to produce competitive hybrids, new markets could begin to open up. Aside from market expansion in territories like the U.S., new demand in markets such as China and India, which each sold around 25 million and 4 million vehicles respectively in 2017, could mean massive revenue potential for Toyota.
Conclusion
Toyota has achieved a dominant market position in the hybrid vehicle market; a position which has awarded Prius a great competitive advantage. We see the move by Toyota to allow royalty-free access to its 24,000 patent portfolio not only as a move to grow the hybrid vehicle market, but also as a way to extract new revenues sources from its patented technology as well as enhance the value of its brand (Toyota is already boasting a brand value of over $53 billion according to brand ranking service, Interbrand). The company may have won the hybrid market battle against traditional competitors such as Ford and Honda, but now it must deal with competition from a new generation of companies that were born all-electric, namely Tesla. With this move, Toyota reminds us that they are the dominant force in hybrid technology and are eager to drive the industry towards an emissions-free future.