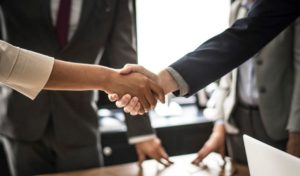 The past year has seen some exciting developments in the IP marketplace, as well as in the technology markets where the underlying innovation is created. As a way to recap the 2017 "Year in IP," we wanted to highlight three deals that uniquely reflect this year's trends and the factors impacting the market (listed below in no particular order). These IP deals were not necessarily selected for their size, but for their indicative nature of a set of circumstances that exist in the current markets that made these deals possible, and even necessary, for the parties involved.
Transfer of Allergan's Patents to the St. Regis Mohawk Tribe


In September 2017, pharmaceutical giant Allergan executed a deal with the Saint Regis Mohawk Indian Tribe to transfer ownership of all Allergan patents related to the eye drug Restasis to the Tribe. The St. Regis Tribe received $13.75 million upfront for the deal, and is eligible to receive up to $15 million in annual royalties. The deal takes advantage of the Tribe's sovereign immunity status which essentially shields the patents from challenges with the USPTO's Patent Trial and Appeal Board (PTAB) known as Inter Partes Reviews (or IPRs).  This deal comes at a critical time, just as Restasis starts to face generic competitors.  For more coverage of this deal, please read here.

We selected this deal because it represents the forces of change in the IP marketplace, and how IP holders find ways to circumvent changes in patent law in ways that the legislator never imagined possible.  Love it or hate it, this deal is interesting and thought provoking, and has been one of the most polarizing events in terms of reactions from various stakeholders in the IP marketplace.  Several lawmakers frowned upon the move, and have since introduced bills to make similar IP transfers illegal.  It should be noted that public universities also enjoy sovereign immunity status.  Earlier this year, the PTAB dismissed IPR challenges against the University of Florida based upon its claim of sovereign immunity.

AT&T's Patent Sale to Uber


This ground-breaking deal represents a major acquisition of 87 issued patents and 5 patent applications by Uber from AT&T in 2017 (for an undisclosed amount). The AT&T patent acquisition gives Uber a portfolio of patents having priority dates pre-dating Uber's formation in 2009, as well as most of the ridesharing industry in general. The IP covers various technologies related to messaging, call handling, routing network traffic, VoIP, and billing. Five of the AT&T patents are specifically related to ridesharing.  This deal has recently been named the LES USA-Canada's High-Tech Sector's Deal of Distinction for 2017, and received an award at the LES Annual Meeting in Chicago.  For more coverage of this deal, please read here.

We selected this deal because it represents a trend of multi-billion dollar startups (also known as "Unicorns") buying patents to "backfill" their portfolios and enhance their IP position (the term "Backfill" is reserved for buying patents with priority dates pre-dating the inception of the company).  We predicted this trend in late 2015, when we published a study on the IP holdings of Unicorns, titled: "The Naked Truth: Why 30% of Unicorns Have No patents".  One of the most important findings in our study was the documentation of an "IP Gap": the IP holding distribution within the group of Unicorns was not correlated with the value distribution. We further observed that this "IP Gap" varies greatly by industry, with some industries, like Consumer Internet (the industry where Uber has been classified) completely out of balance.  We predicted that: "this gap could serve as an opportunity for increasing the liquidity of some IP assets in the marketplace, as some of these companies will no doubt show up as buyers as their exit event approaches, as they try to enter new markets, as they encounter incumbent patent lawsuits, or any such event that forces them to strengthen their IP position. "

OnStream's Patent Sale in Japan


In February 2017, our client, OnStream Media Corporation (OTCMKTS: ONSM), entered into a Patent Purchase Agreement with a group of buyers in Japan, for the sale of 2 U.S. Patents and related U.S. Patent Applications, including all rights, title and interest in those patent assets. In accordance with the Agreement, the total purchase price is a minimum of $40 million and a maximum of $80 million. The patents address live streaming of audio and/or video from multiple devices to a storage location, such as the Internet or cloud, and the ability to access and retrieve the audio and/or video from multiple devices, whereby the content is not stored on the device.  The patents had been acquired by OnStream through the acquisition of Auction Video in 2007, and the company kept prosecuting and maintaining the assets over the years.

We selected this deal because it was entered into by one of our IP strategy clients, following a monetization plan that we devised for them.  It shows that if you understand the IP marketplace and where buyers are, patents can still be sold and monetized with sizable returns.  The deal represents a trend that we are seeing in the patent marketplace over the last few of years of foreign buyers interested in US patents as a way to obtain freedom to operate in the US, or just to get a foot in the door in the lucrative US enforcement market.  Japan is one of the latest countries to come onboard the patent monetization scene, following in the footsteps of other Asian countries, like China and Korea.  This is a very complex deal that is still unfolding, and we hope our client is successful in realizing the full potential of these assets.
Have you come across an exceptional IP deal in 2017? Let us know! We are happy to include your IP deal in our future newsletters.